Welcome to Nursery
Our Nursery children have settled in brilliantly and we are so proud of each and every one of them.
We have been exploring both our indoor and outdoor classroom, making lots of new friends and following daily routines.
Dough Disco
Let's go to the Dooouuughhhhh DISCO!
This activity helps us develop the muscles in our fingers to support our mark making and writing.
We put on the disco ball and music then use playdough to practise different moves such as patting, rolling, squeezing and prodding.
We have so much fun!
People Who Help Us
We have been learning about people who help us such as doctors, vets, police officers, firefighters and dentists.
As part of learning about Vets we set up a roleplay area and the children had a fantastic time looking after the animals. They used thermometers to check the animals temperatures, stethoscopes to check their heart and syringes to give them 'medicine'. They made sure the animals had food and water.
Mrs Goss brought her Budgie Skye in too and taught us how to look after her. We know Skye is a girl because her nose is pink. If she was a boy her nose would be blue.
Celebrations - Halloween
The children have settled very well after our half term holiday.
We have been learning about the celebration of Halloween. Our story is Meg and Mog. Meg is a witch who has a pet cat called Mog. She goes to a spell party with her friends and there's a loud BANG! Oh oh, something went wrong! Meg's friends were turned into mice and Mog had great fun chasing them. We sequenced parts of the story and acted it out with props.
We had great fun dressing up in our halloween costumes.
Pumpkin Exploration
We explored pumpkins using our senses. Mrs Goss had to help cut it open as we needed a sharp knife. We pulled the seeds and the fibrous strands from the flesh.
It was very sticky and slimy.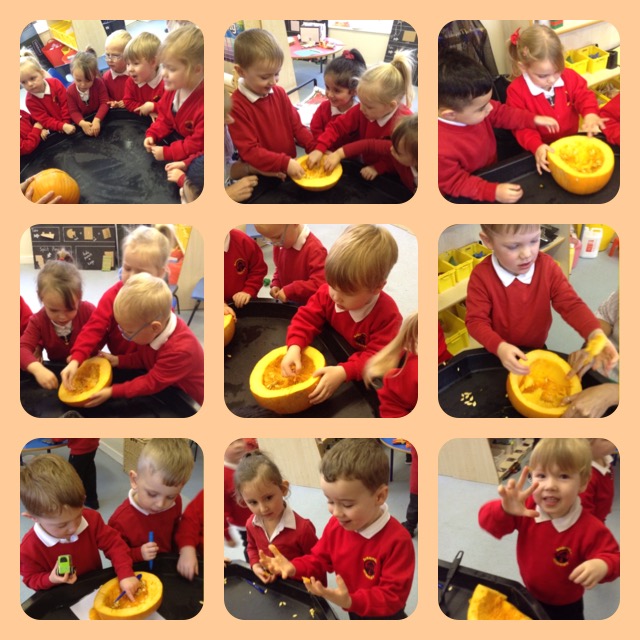 Can we eat pumpkins?
We talked about whether we could the pumpkin and what parts we can't eat.
We decided to make pumpkin soup with the flesh of the pumpkin. We kept some of the seeds to plant in our garden later and we used the rind to make bird feeders.
We all had a taste of the soup and dipped a slice of bread in. Many of us thought it was delicious and some of us had another helping! Mmmmmm!
Autumn
We having been learning about the season of Autumn. We went on a walk to look for signs of Autumn. We found lots of coloured leaves on the ground that had fallen from the trees. The tree branches were bare.
We couldn't hear any birds singing. They must have flown south were it is warmer.
We found sycamore seeds and had great fun throwing them in the air and watching them spin, twirl and swirl down to the ground.
Diwali
We have been learning about Diwali, it's the festival of light.
Hindu and Sikh people celebrate Diwali in Autumn.
We dressed in colourful, bright clothing and made some traditional food. We tasted samosas and fudge.
We made Rangoli patterns with coloured pasta and created our own temple.
Christmas
What a fantastic time we have had celebrating Christmas!
Our First Nativity was brilliant! We read the story, acted it out and then each took a role. We dressed in costumes and sang songs to tell the story of Jesus' being born in Bethlehem.
We set up our very own Christmas Workshop where we wrapped presents, made gift tags and made christmas cards for others. We followed step by step instructions to wrap presents and practised so many skills.
Santa came to visit us and he brought along one of his reindeer. We learnt about what reindeer eat and how to look after them. He was chomping on lots of hay to build his energy up to fly on Christmas Eve...we are SO EXCITED!!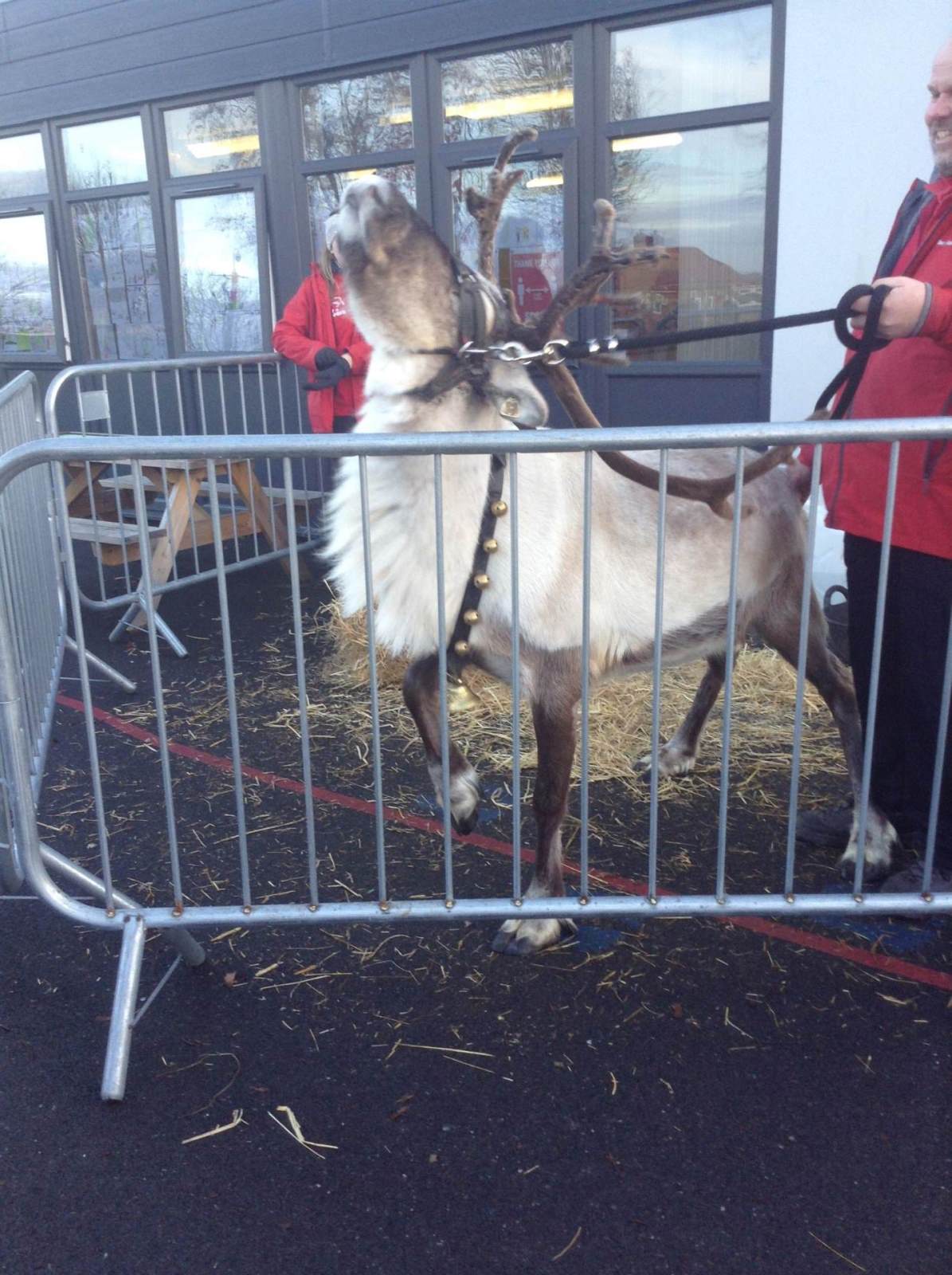 We had a christmas party where we played lots of games, danced and had a party picnic.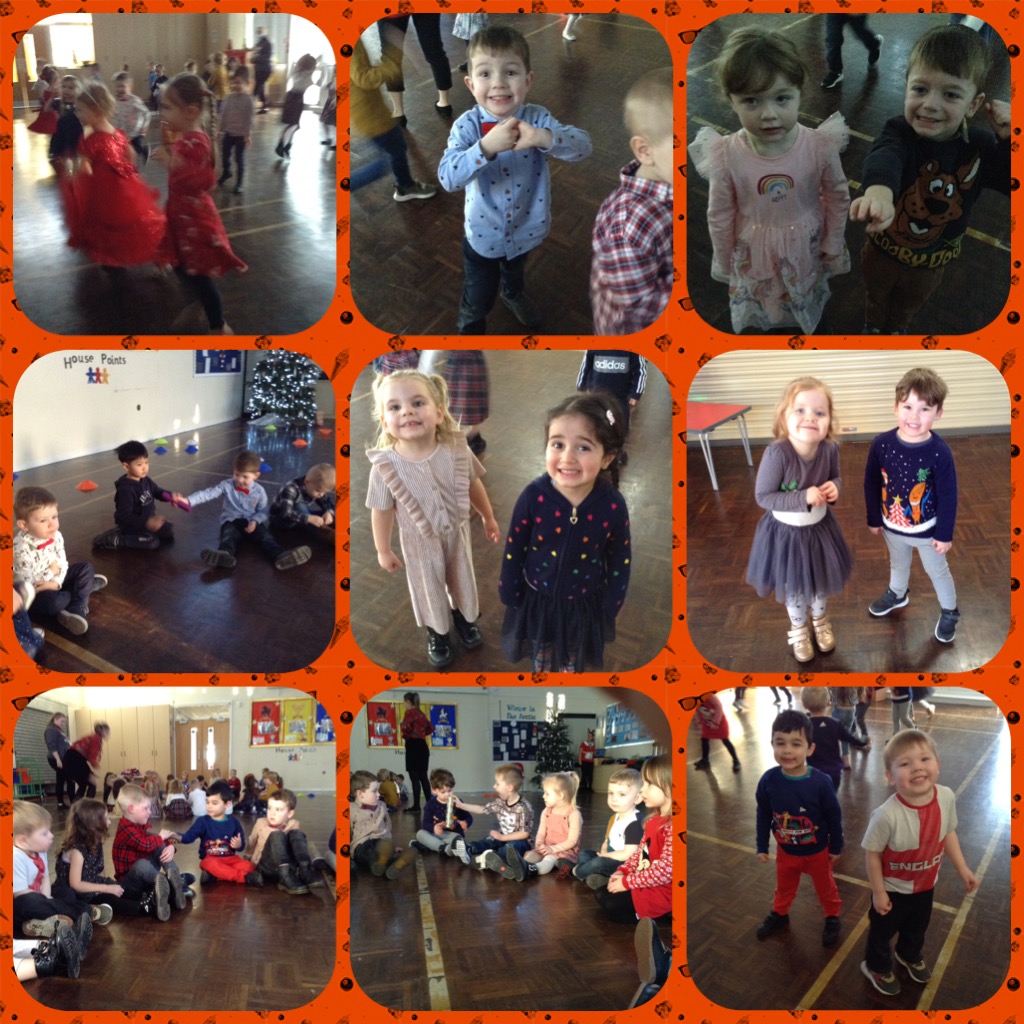 Winter
We've had a great time being back in Nursery. We have started learning about the season of Winter. We made snowflakes by folding paper and snipping pieces. We went on a Winter Walk to find signs of Winter and discovered so much ice in our Nursery Garden.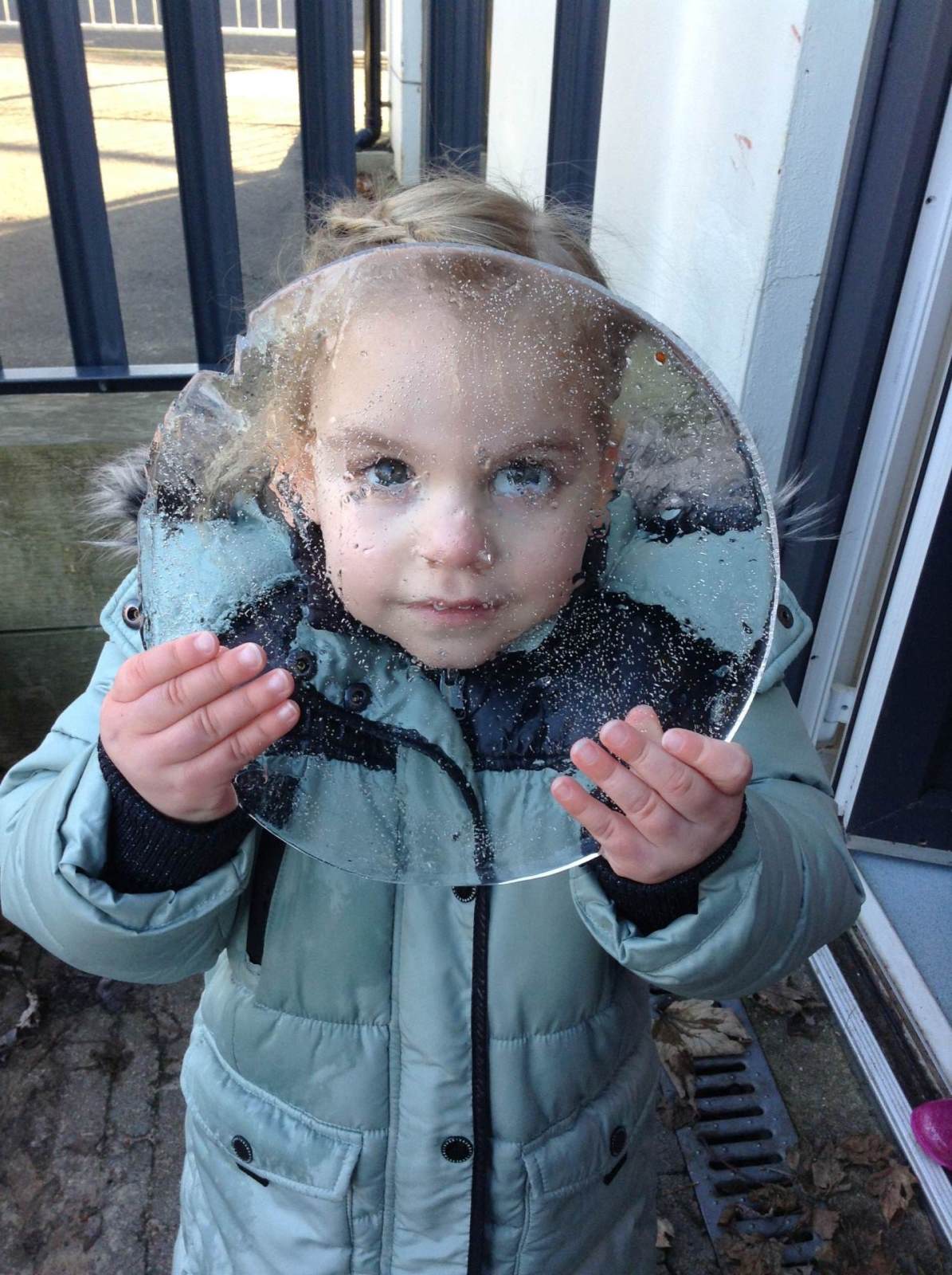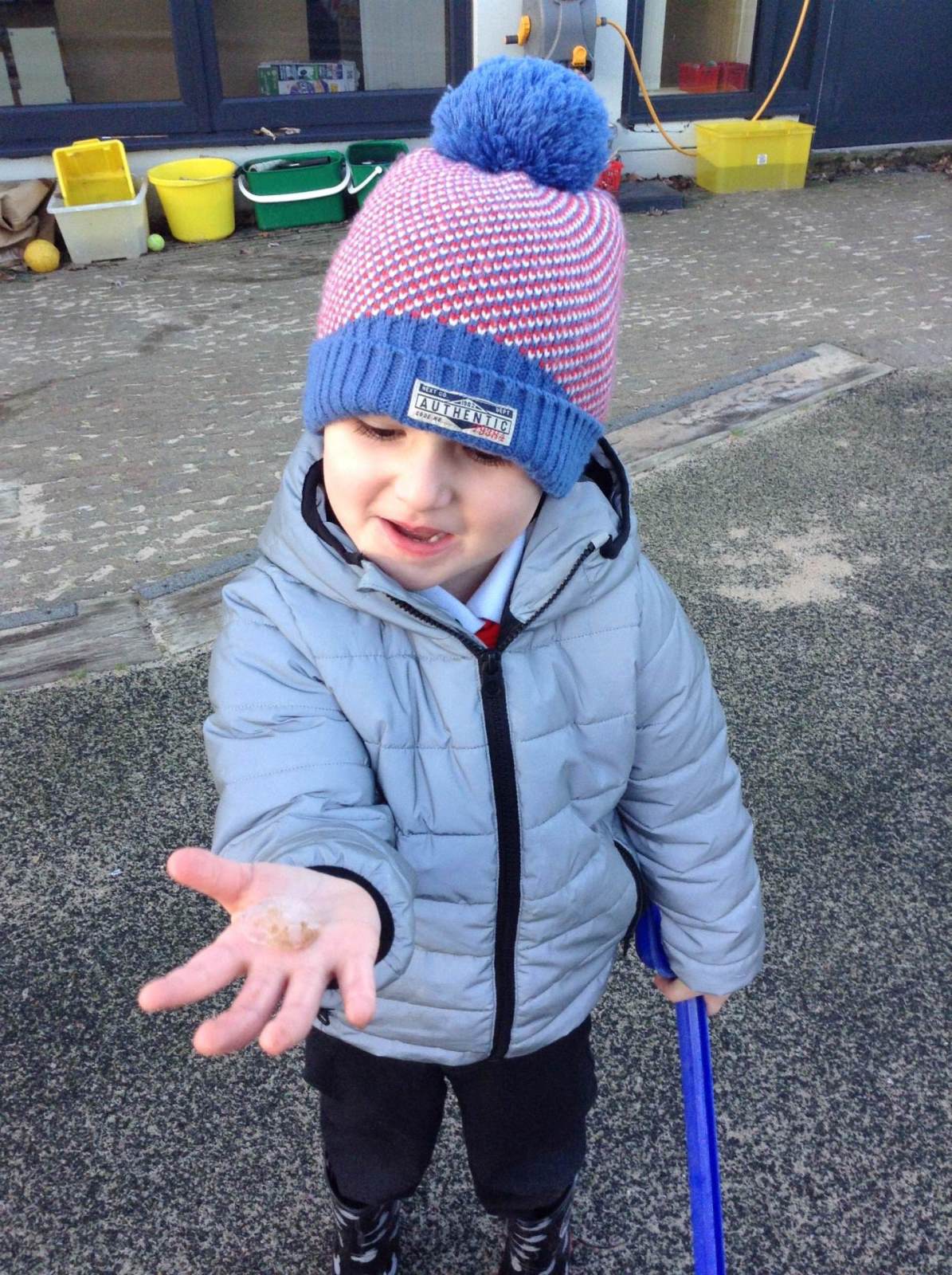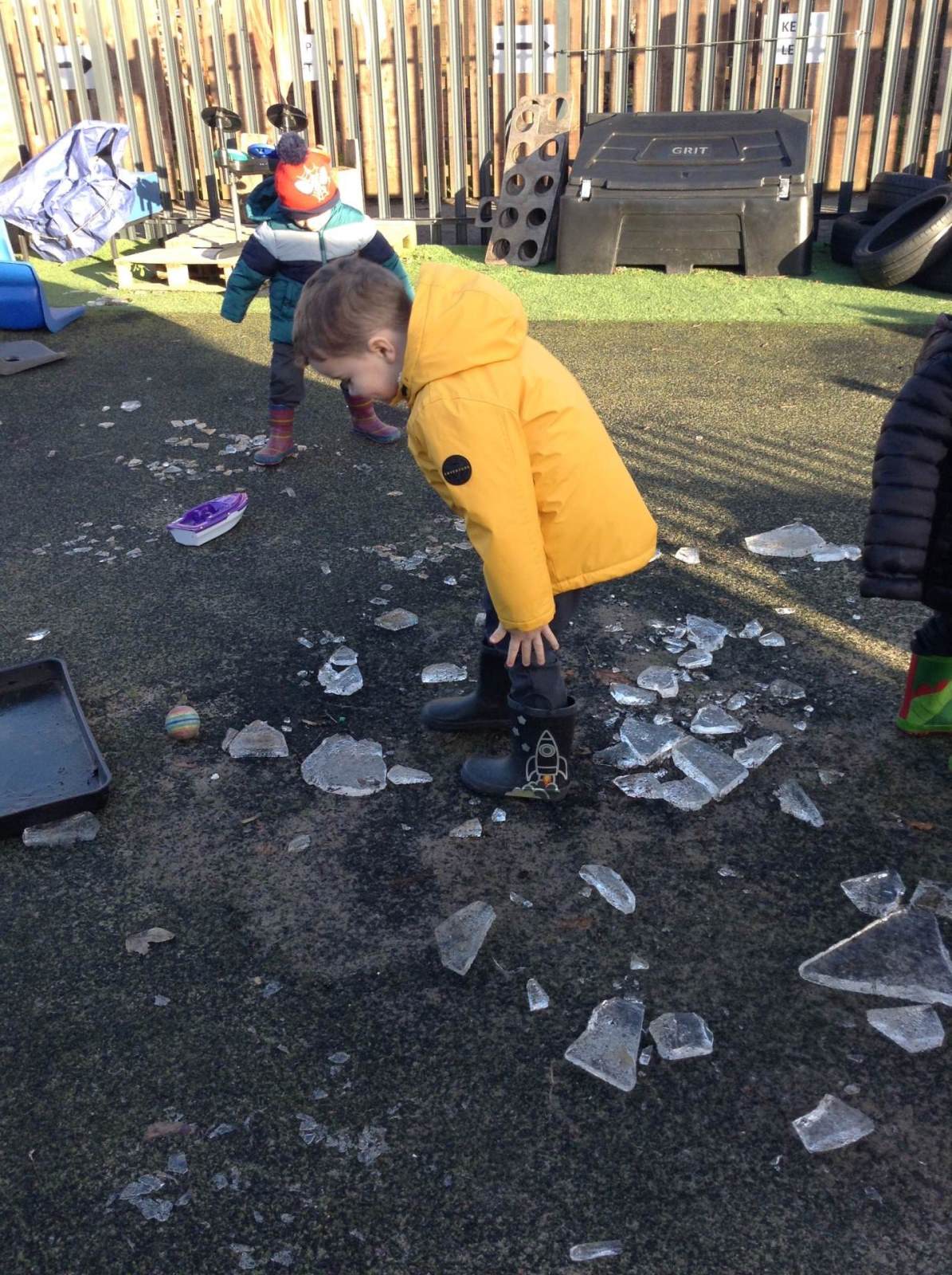 We read 'The Great Explorer and found out what it's like in the Arctic. It looks very cold. We sorted clothes into groups of what we would wear for a trip to the Arctic and what we wouldn't wear.